In a dazzling appearance at the Los Angeles premiere of her highly-anticipated Eras Tour concert film, Taylor Swift stole the spotlight as she graced the event in a resplendent blue floral gown by Oscar de la Renta. The Grammy-winning artist and global sensation continues to captivate audiences, both musically and with her stunning fashion choices.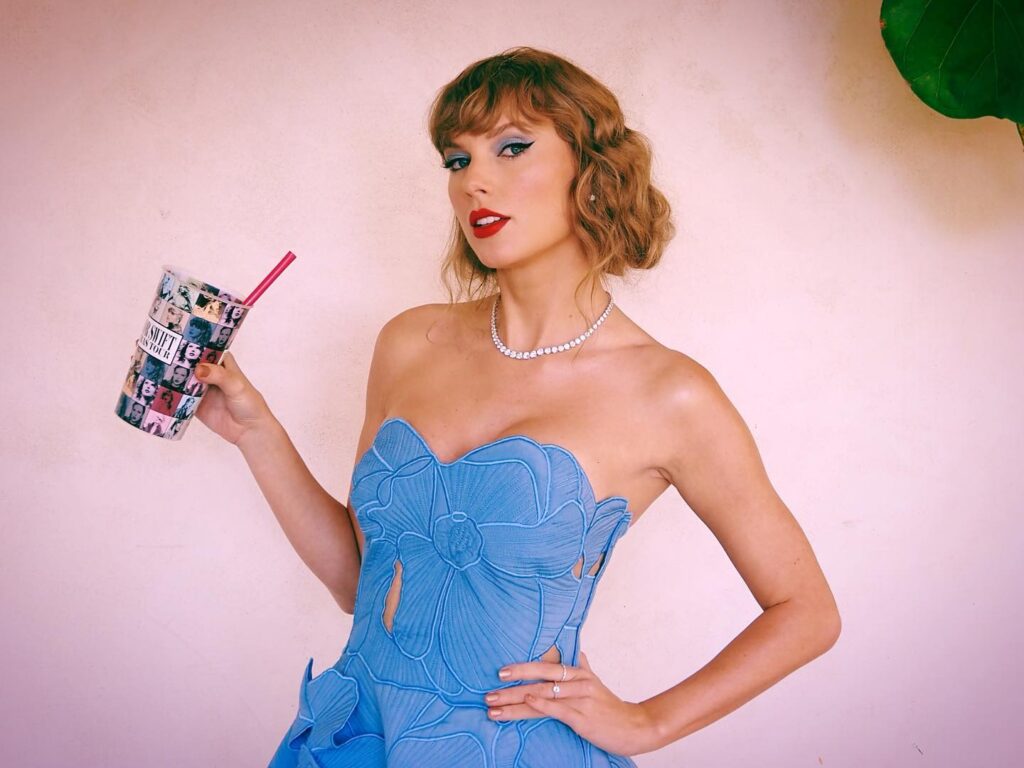 Swift's Brief Tour Intermission
While Taylor Swift is currently taking a well-deserved break from her tour, having successfully completed the first leg and a substantial portion of her U.S. tour dates, fans can rest assured that her captivating performances will resume in November, including her international shows that promise to be nothing short of spectacular.
The Joy of Sharing Her Journey
In August, Swift took to Instagram to express her excitement about releasing the Eras Tour concert film, a project close to her heart. She described it as "the most meaningful, electric experience of my life so far," and eagerly announced its big-screen debut. Starting on October 13th, fans in North America will have the opportunity to relive this incredible journey in theaters. The artist even encouraged concertgoers to embrace the spirit of the era, complete with attire, friendship bracelets, and joyous singing and dancing.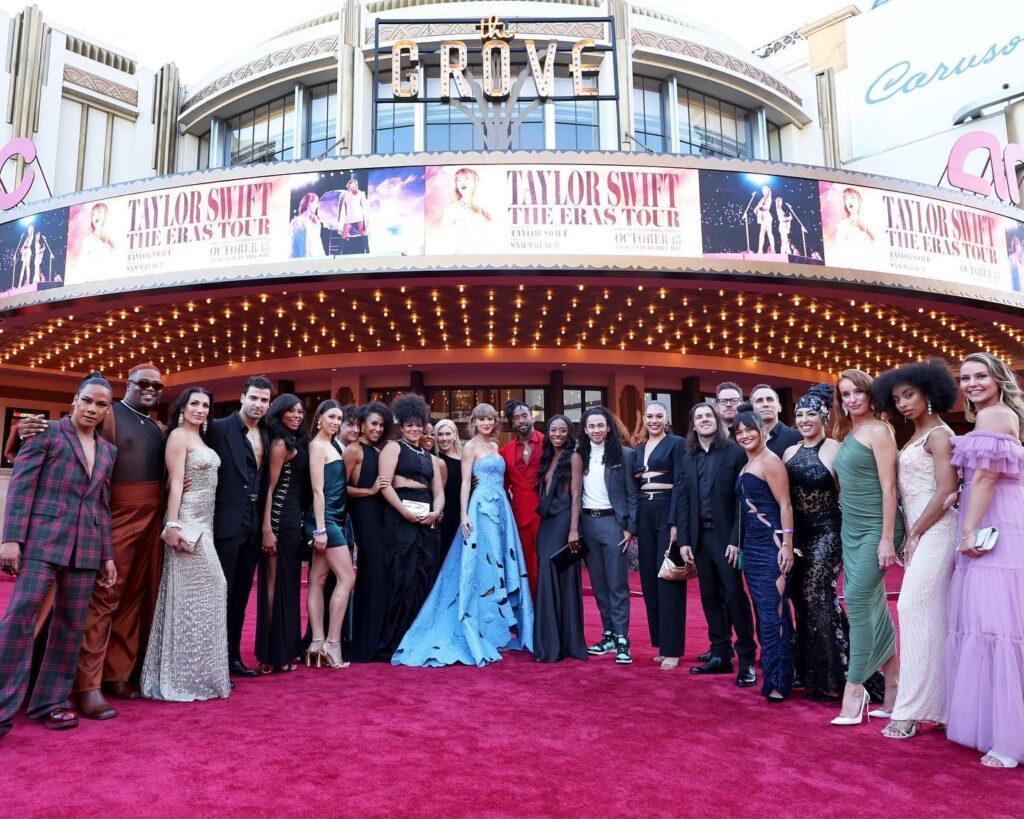 A Nod to Her Musical Odyssey
Taylor Swift's creative journey doesn't stop at her tour film. On October 27th, she's set to release '1989 (Taylor's Version)' – an eagerly anticipated rendition of her iconic 1989 album. The blue dress that graced the premiere is not a mere fashion statement; it's a nod to the forthcoming re-recorded album. Swift had playfully hinted at this endeavor back in August when she adorned herself with an array of blue outfits during one of her tour performances.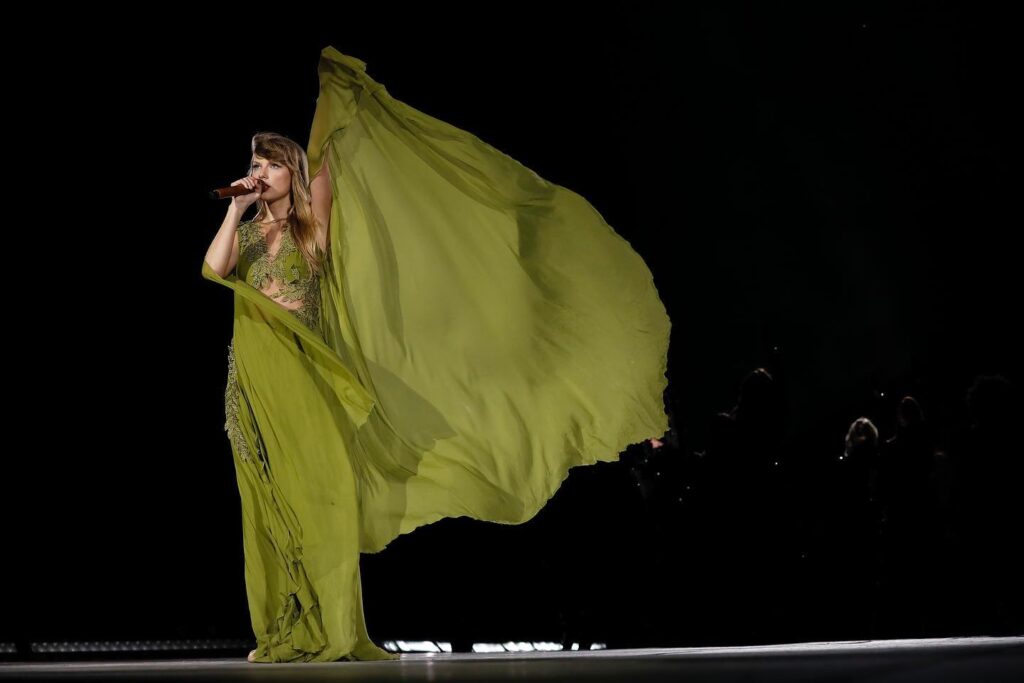 A Cherished Re-Recording
In her announcement of the re-recorded album, Swift shared her profound connection with '1989': "The 1989 album changed my life in countless ways, and it fills me with such excitement to announce that my version of it will be out October 27th." She expressed a deep passion for this particular re-recording, especially for the inclusion of the "5 From The Vault" tracks, which she describes as "insane" and can't believe they were initially left behind. Swift's dedication to preserving her musical legacy and her connection with her fans remains as strong as ever.
Taylor Swift's appearance at the premiere of her Eras Tour film and the nod to '1989 (Taylor's Version)' reflect not only her musical prowess but her innate ability to create excitement and anticipation in the hearts of her devoted fans.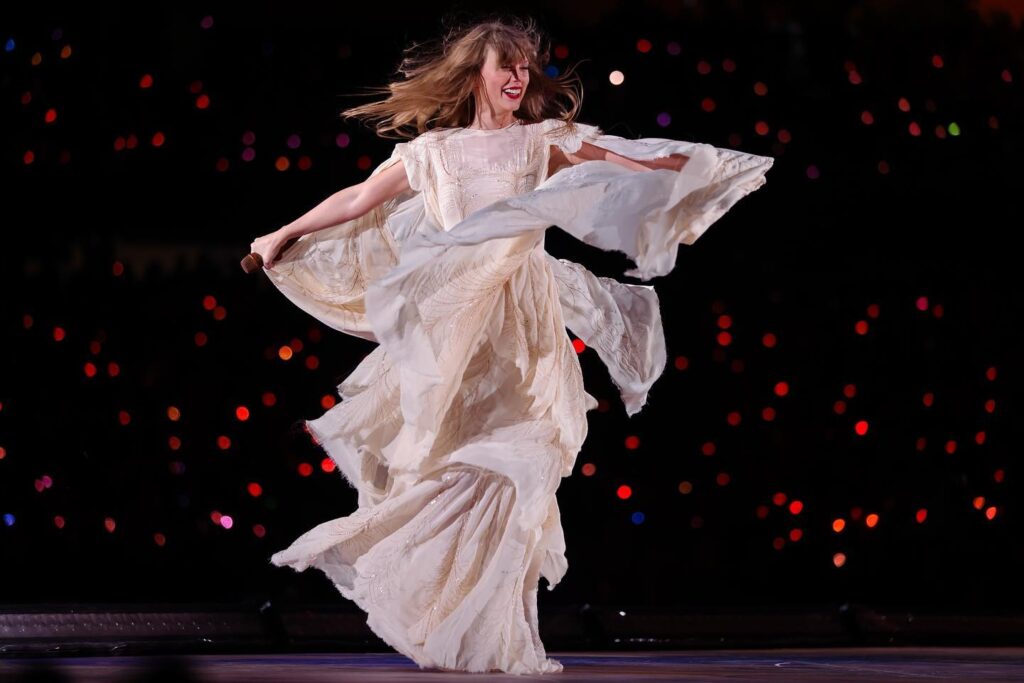 The Excitement Builds
As the release date for '1989 (Taylor's Version)' approaches, the excitement among Swifties is palpable. Swift's journey to reclaim her musical catalog through re-recordings has been a testament to her artistry and resilience in the face of industry challenges. With each release, she gives fans a chance to revisit beloved classics while offering a fresh perspective and emotional depth that only time and experience can bring.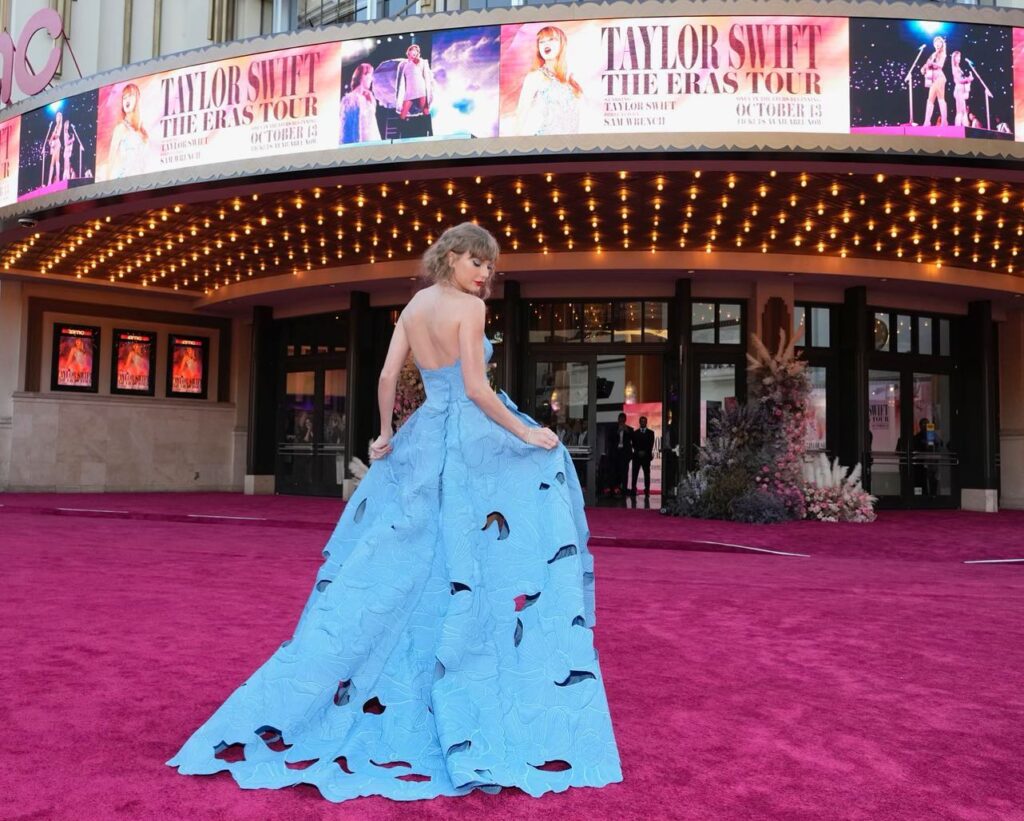 A Transformation in Blue
The choice of the blue dress at the premiere holds a special significance. It's not merely a fashion choice; it's a symbolic representation of Taylor Swift's transformation and artistic evolution. Blue, often associated with depth, stability, and wisdom, reflects the maturity and growth that the artist has experienced since her original '1989' album. This reimagining of her musical past is a testament to her enduring relevance and her ability to connect with new and longtime fans alike.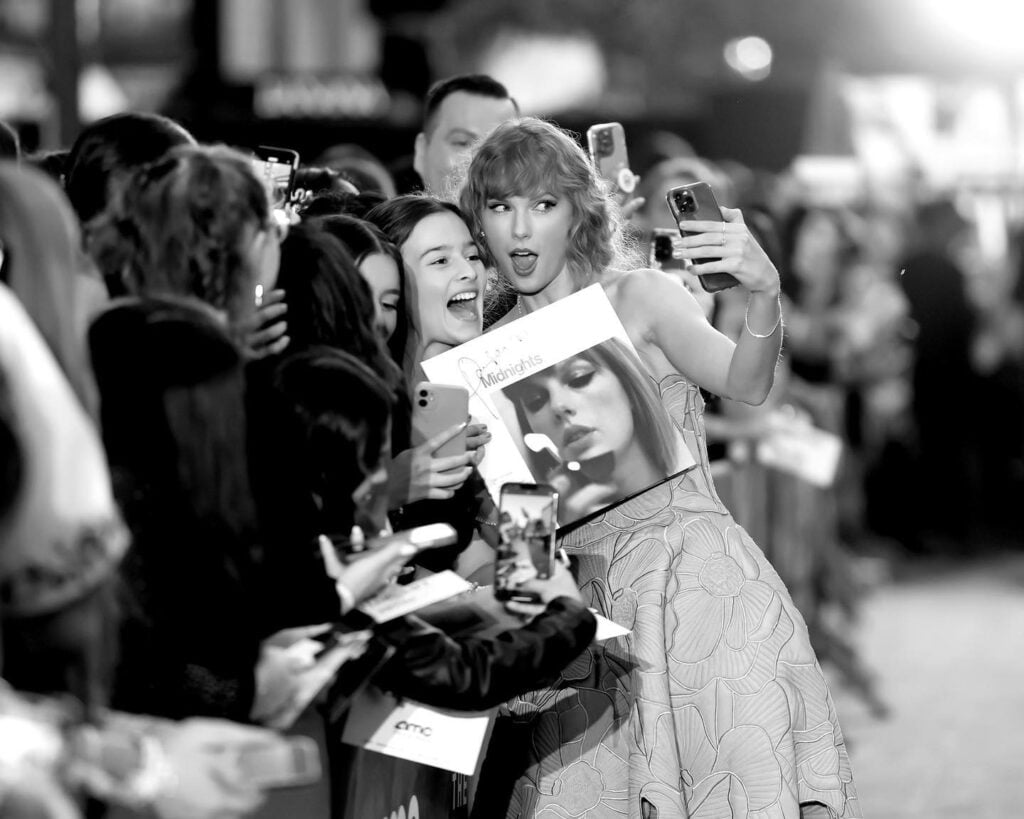 Resonating with Fans
Swift's ability to resonate with fans of all ages and backgrounds has been a defining feature of her career. Her music not only encapsulates personal experiences but also serves as a mirror to the emotions and struggles faced by her audience. '1989 (Taylor's Version)' is set to be a celebration of her journey and an acknowledgment of the profound impact her music has had on countless lives.
A Reminder of Musical Legacies Re-recorded albums, or "Taylor's Versions," as the artist affectionately calls them, are not only about reclaiming ownership but also about reminding the world of the enduring power of music. They reinforce the idea that great music transcends time and that artists should have the autonomy to control their creative works.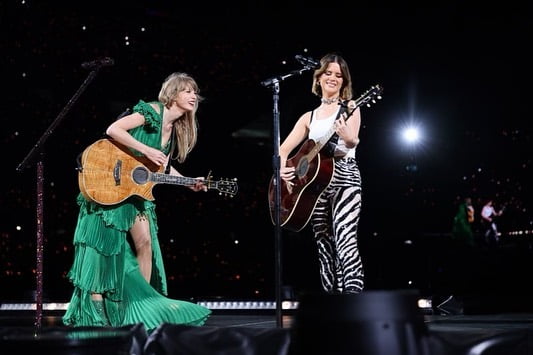 An Artist in Her Prime
As Taylor Swift graces the red carpet in her '1989'-inspired blue dress, it's a visual reminder of an artist in her prime. With a career spanning over a decade, she continues to evolve, inspire, and make an indelible mark on the music industry. Her commitment to her craft and her fans is unwavering, and her legacy continues to grow with each new release.
In a world where the music landscape is ever-changing, Taylor Swift's enduring presence and her willingness to rekindle the magic of her past works is a testament to her lasting impact. With the premiere of her Eras Tour film and the upcoming release of '1989 (Taylor's Version),' she invites fans, both old and new, to join her on a journey through time and emotion, reminding us all of the timeless power of music.
Read more: Recreating BTS Jungkook's Mesmerizing 3D Look: A Step-by-Step Guide