Spring Fashion: Styling tips from the latest sari looks of celebrities. How to choose the right sari for you in the spring season, you can guess by looking at these sarees looks of celebrities. As the seasons change, women have also started making changes in their wardrobe. It is time to put the winter clothes back in the box and decorate the summer clothes again in the wardrobe. In such a situation, small functions have started in many houses. Somewhere the wedding is being celebrated, and somewhere a baby shower party is being held. You will obviously be looking for ethnic outfits to wear on these occasions.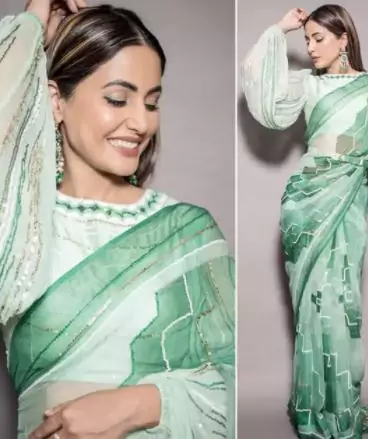 Spring Fashion: Styling Tips From The Latest Sari Looks Of Celebrities. By the way, you will find a variety of outfits in the market. But the fashion of saree is always Evergreen. Light colors, floral prints, and low-work saris can be a good choice in this season. Some Bollywood and TV industry actresses have also posted their latest sari looks on Instagram as the spring season approaches.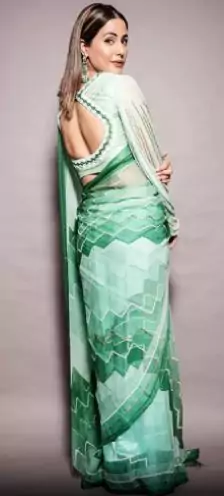 Spring Fashion: Styling Tips From The Latest Sari Looks Of Celebrities You will also love these saree looks of the actresses and by looking at them, you can also buy a good sari for yourself and give yourself a unique style in the sari. Let us show you some similar looks of actresses.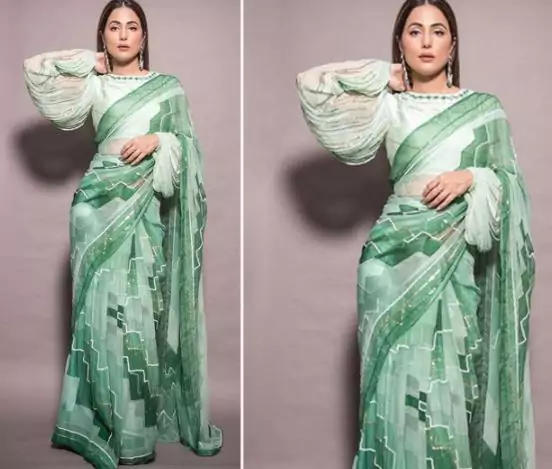 Meera Rajput Kapoor is wearing a very simple yellow and sowar saree Choose the right color saree.
In this picture, Meera Rajput Kapoor is wearing a very simple yellow and sowar saree. Let us tell you that yellow, pink, orange, and light green colors come at the top number in the list of top colors of the spring season. Spring Fashion: Styling Tips From The Latest Sari Looks Of Celebrities These colors look beautiful according to the season, as well as add four moons to your look.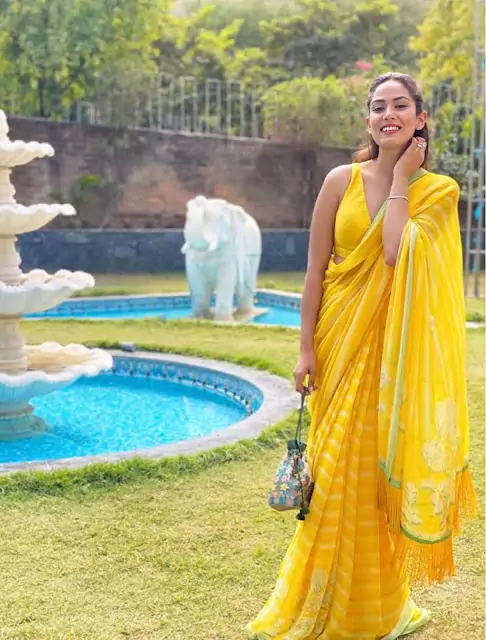 Meera is wearing a saree designed by fashion designer Anita Dongre in this picture. But you will get a similar sari from the showroom of any good sari. You can wear this kind of saree for a day party. Meera is wearing a deep V-neck sleeveless blouse with this saree. However, if you want, you can also choose a cap sleeve with a saree or a blouse design with puff sleeves. These blouse designs are very much in trend these days.
Must read: Hina khan hot looks
This is how work should be done on saree
The spring season has neither excess heat nor excess winter. In such a situation, you can carry a light work sari comfortably in this season. In this picture, Bollywood actress Aditi Rao Hydari is wearing a designer queen pink color saree of the fashion label Raw Mango. Organza and silk mixed saree has gotta Patti work and saw embroidery.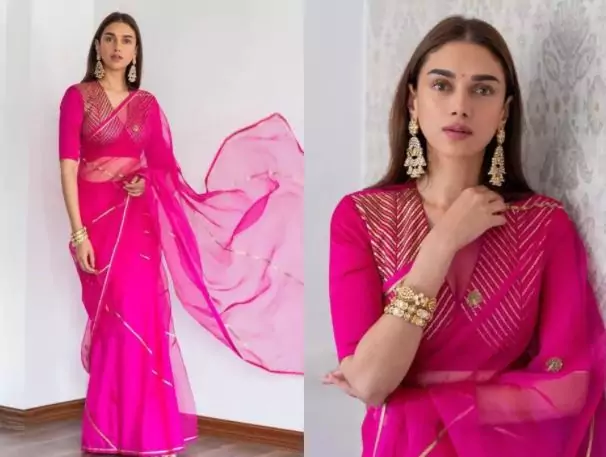 Let me tell you that both the work is done on the saree is also giving designer look to the saree and they are not making it heavy either. Along with Gota work, patchwork, chikankari work, and light sequence work are very comfortable for this season. You can get this kind of saree from any local boutique designer.
Must read this: Colorful designer handbag trends in 2021
This should be a saree print.
Mouni Roy posted this picture on her Instagram some time ago. The picture features Mouni Picchika wearing a designer and personalized sari of the brand. The broad floral print is also seen on the saree. This saree is also good for the spring season because it is made on organza fabric.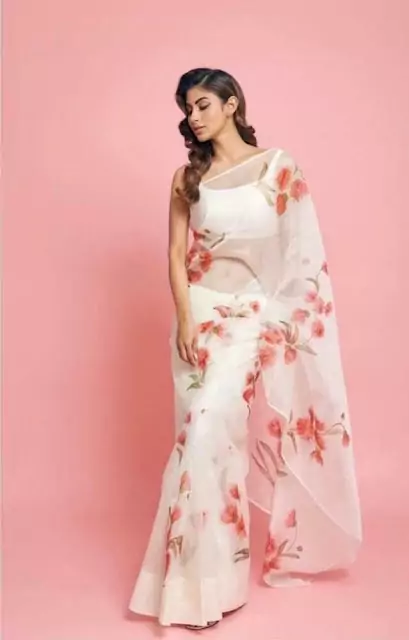 Like Moni, you should also choose floral prints in the spring season. You can find designer sarees in various floral prints in the showroom of any good saree. You can wear a bracelet blouse, bikini blouse or sleeveless blouse with this kind of saree.
Keep these things in mind as well
1. Wear heavy-weight jewelry along with a sari and lightweight jewelry this season. If possible, choose Pearl, Diamond, and Silver Jewelry.
2. Carry a lightweight bag or a hand clutch bag with the sari.
3. Make minimal makeup and keep hair open.
If you enjoyed this article, at that point do share it, and stay associated with reading other comparable articles on Milan fashion.