Learn how to achieve the perfect smokey eye makeup look with this comprehensive guide. From the basics to advanced techniques, gain insights and expert tips to rock the sultry and alluring look. Discover the magic of smokey eye makeup and transform your eyes into captivating works of art.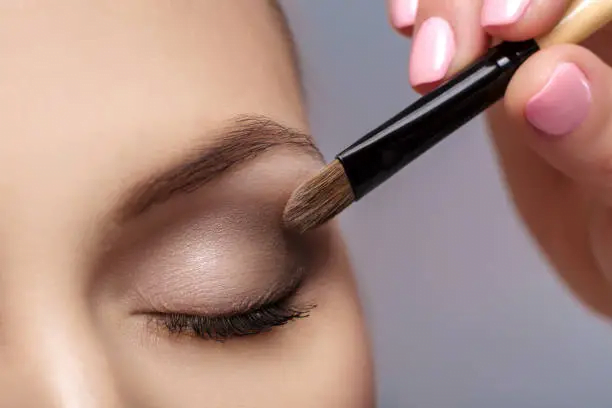 Welcome to the world of timeless elegance and allure – the smokey eye makeup! If you've ever wanted to make your eyes the center of attention, this article is your ultimate guide to mastering the art of smokey eye makeup. Whether you're a makeup novice or a beauty enthusiast, we've got you covered with step-by-step instructions, insider tips, and industry secrets to create a captivating smokey-eye look.
Smokey Eye Makeup: Unveiling the Mystery
Smokey eye makeup is a versatile and classic technique that adds depth and drama to your eyes. This mesmerizing makeup style is characterized by dark, blended eyeshadows that create a gradient effect, seamlessly transitioning from light to dark shades. The result is a sultry, smoldering gaze that exudes confidence and allure.
The Essential Tools and Products for Smokey Eye Makeup
To achieve the perfect smokey eye, it's essential to arm yourself with the right tools and products. Here are the must-haves in your makeup arsenal:
Eyeshadow Palette: Opt for a versatile eyeshadow palette with a range of matte and shimmer shades, including black, gray, silver, and deep browns.
Eyeliner: A smudge-proof black eyeliner is a crucial tool for defining the eyes and creating a smokey effect.
Eyeshadow Brushes: Invest in high-quality eyeshadow brushes, including a blending brush, shader brush, and angled brush for precise application.
Primer: Prep your eyelids with an eyeshadow primer to enhance the longevity and vibrancy of your eyeshadow.
Mascara: Lengthen and volumize your lashes with a volumizing mascara to complete the smokey eye look.
Creating a Classic Smokey Eye Look
Step 1: Prime Your Lids
To ensure your smokey eye makeup stays in place all day or night, start by applying an eyeshadow primer on your eyelids. This step will prevent creasing and ensure your eyeshadow looks vibrant and long-lasting.
Step 2: Apply the Base Shade
Using a flat eyeshadow brush, apply a light neutral shade all over your eyelids as a base. This will create a smooth canvas and make blending easier.
Step 3: Define the Crease
With a blending brush, sweep a medium-toned eyeshadow shade into the crease of your eye. Use back-and-forth windshield wiper motions to achieve a seamless blend.
Step 4: Intensify the Outer V
To add depth and drama, apply a darker eyeshadow shade to the outer corner of your eye in a "V" shape. Blend well to soften any harsh lines.
Step 5: Smudge the Eyeliner
Take your black eyeliner and gently line your upper and lower lash lines. Use a smudging brush to soften the lines for a smokey effect.
Step 6: Add Shimmer (Optional)
For a touch of glamour, apply a shimmering eyeshadow shade to the center of your eyelids. This will catch the light and add dimension to your eyes.
Step 7: Finish with Mascara
Complete your smokey eye look with several coats of volumizing mascara for bold and captivating lashes.
Tips and Tricks for Perfecting Your Smokey Eye
Blending is Key: Mastering the smokey eye requires seamless blending. Take your time to blend each shade for a flawless transition.
Start Light: Begin with lighter eyeshadow shades and gradually build up to darker tones for a well-balanced look.
Use Tape for Precision: To achieve a sharp edge, place a piece of tape diagonally from the outer corner of your eye to the end of your brow before applying eyeshadow.
Keep the Rest of Your Makeup Subtle: Let your smokey eyes take center stage by keeping the rest of your makeup subtle and natural.
Frequently Asked Questions (FAQs)
Q: How do I choose the right eyeshadow colors for my eye color?
A: For brown eyes, any color will complement your eyes. Blue eyes pop with warm bronze and copper shades, while green eyes shine with purples and plums. For hazel eyes, try shades of green and gold.
Q: Can I wear a smokey-eye look during the day?
A: Absolutely! Opt for softer and lighter shades for daytime wear. Neutral tones like taupes and browns create a subtle and wearable daytime smokey eye.
Q: I have hooded eyes. Can I still wear a smokey eye?
A: Definitely! To flatter hooded eyes, keep the darkest shades closer to the lash line and blend upwards.
Q: How can I prevent fallout from my eyeshadow?
A: Tap off excess eyeshadow from your brush before applying it to your eyelids. You can also place a tissue under your eye during application to catch any fallout.
Q: Can I create a smokey eye with colored eyeshadows?
A: Yes! Experiment with jewel tones or earthy colors to create a unique and bold smokey eye look.
Q: Should I use waterproof mascara for a smokey eye?
A: Waterproof mascara is a good option, especially if you expect to shed tears of joy or attend events with humidity or rain.
Unlock the power of seduction with smokey eye makeup! Now that you've gained the insights and expertise to create a mesmerizing look, it's time to unleash your inner diva and rock the smokey eye with confidence. Experiment with different shades, techniques, and finishes to find your signature smokey eye style. Remember, practice makes perfect, so don't be afraid to play with your makeup and have fun!