Miu Miu is pushing the boundaries of fashion with its bold introduction of thong boots. In the ever-evolving world of luxury fashion, Miu Miu made a significant statement during its Spring 2023 showcase at Paris Fashion Week.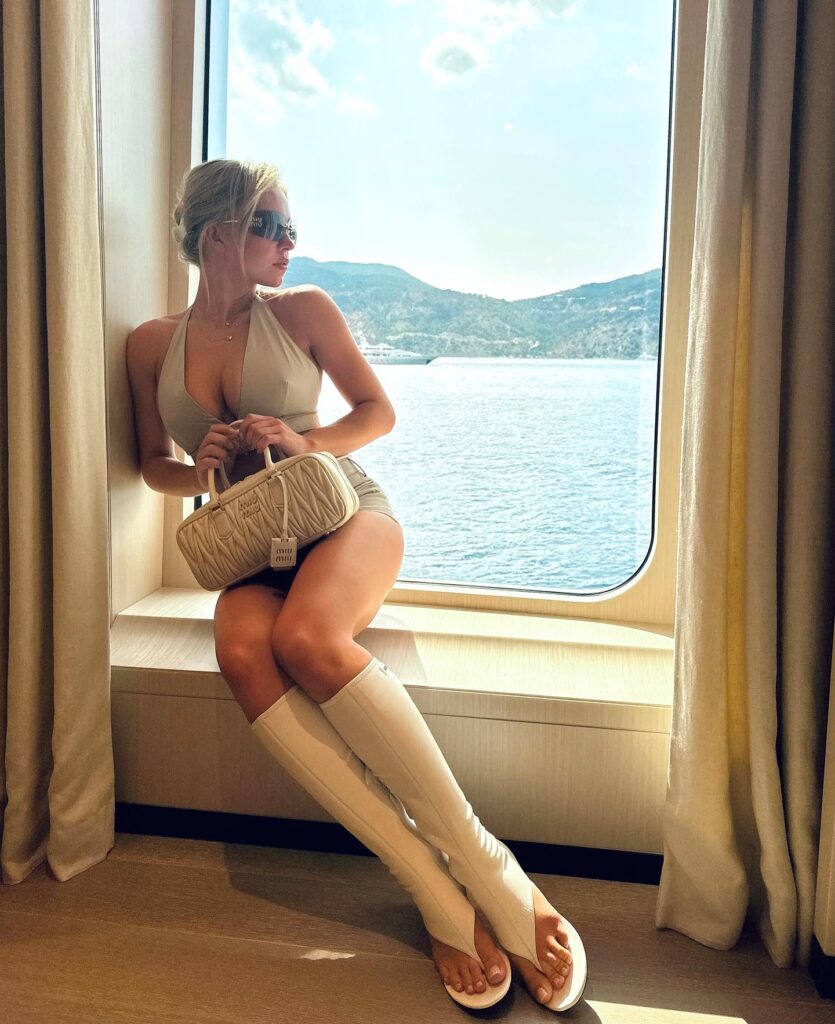 The runway witnessed the likes of FKA Twigs, Bella Hadid, and Emily Ratajkowski confidently strutting in these unconventional yet captivating boots. These boots possess a snug, sock-like fit around the calves, morphing seamlessly into a toe-revealing thong-style sandal, adorned with a petite heel and a discreet zipper running along the inner side.
Designer extraordinaire, Miuccia Prada, has released several iterations of these intriguing heels, available in both leather and suede. The color palette ranges from classic neutrals like black, white, and brown to eye-catching options such as pastel yellow and neon pink. Buyers can opt for the knee-high version or the more ankle-friendly alternative, with the former option often sparking passionate debates among fashion enthusiasts. It's worth noting that certain styles have already experienced sold-out statuses, defying all expectations. Additionally, the steep price point has led to the emergence of various replicas, generating buzz on TikTok.
Despite the controversy surrounding them, these boots have graced the feet of numerous celebrities since their unveiling in October 2022. Rita Ora braved the freezing New York City temperatures to showcase them in January. Gabrielle Union, Emma Corrin, and Natasha Lyonne have all sported a pair at various Miu Miu events throughout the year. Sydney Sweeney and Kendall Jenner have both proudly displayed themselves on Instagram, dressed from head to toe in Miu Miu attire, featuring the label's knee-high sandal boots, further fueling the excitement. With their unique design and transitional appeal, it wouldn't be surprising to see more stars adopting this trend in the upcoming fall season.
Considering the recent trend of "ugly" footwear gaining widespread acceptance, such as embellished Crocs, chunky dad sneakers, and Mschf's whimsical Big Red Boots, it's evident that Miu Miu's thong sandals are on a similar trajectory. Day by day, they attract more adventurous fashion enthusiasts into their sphere. Below, you'll find a list of all the daring celebrities who have embraced this unconventional trend.
Celebrities Who Embrace the Trend
1. Rita Ora: Defied the cold in New York City with a bold display in January.
2. Gabrielle Union: Showcased the boots at various Miu Miu events throughout the year.
3. Emma Corrin: Proudly sported a pair of these unconventional boots.
4. Natasha Lyonne: Joined the ranks of celebrities embracing the Miu Miu trend.
5. Sydney Sweeney and Kendall Jenner: Both rocked the knee-high sandal boots on Instagram, sparking even more excitement.
Read more: Selena Gomez's Stunning Style in Paris: A Fashion Masterpiece
Miu Miu's thong boots may be unconventional, but their growing popularity suggests they are here to stay. As fashion boundaries continue to expand, these boots stand as a testament to the ever-evolving nature of style.